How to crochet tiny animals
Notes on learning to make amigurumi from scratch.
October 31, 2020

Amigurumi is the Japanese art of crocheting adorable small stuffed toys.
Ami = crocheted or knitted

Nuigurumi = stuffed doll (made of sewn fabric)

Amigurumi = those words merged together to mean crocheted stuffed doll
I learnt to make cute tiny animals with this technique during the first COVID lockdown, having never crocheted or knitted before. I'm still very much a beginner, but friends have asked for tips and the resources I used:
Picking a starter project
I'd suggest something simple to start with. To tell if it is simple: in general the closer it is to being a plain ball or oval shape, the easier it will be. For instance, this jellyfish or a tiny chonky round whale.
I started with this sea animals crochet kit from Beardie & Blondie on Etsy. The patterns were easy enough for a first project, but I found the yarn (Ricorumi DK cotton) and hook (3.5mm) too small having never crocheted before. 4 hours in all I had was some tangled string. I ended up getting bigger yarn (Aran) and a 5.5mm hook instead and was then able to get the hang of it as I could see what I was doing better and it was less fiddly (I like to think the previous 4 hours of pain helped too). Once I'd made my first tiny whale with the bigger materials I found I was able to use the smaller yarn and hook just fine.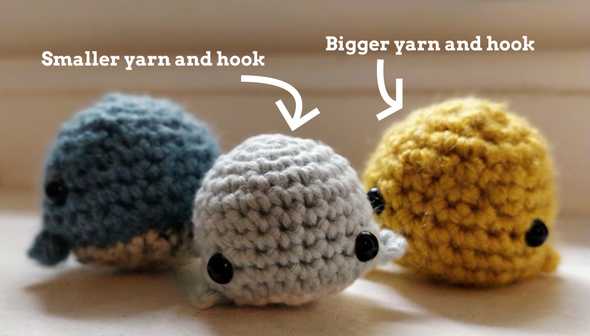 You could also just get the materials (listed below) and find a crochet pattern on the internet. I'd recommend finding a beginner pattern with a YouTube video, but have also listed YouTube videos I found helpful for all the basic techniques below.
Materials
These are the materials you need to make most projects:
Yarn (I started with acrylic Aran weight, before later being able to use the smaller cotton DK yarn - you can also scale up and use a bigger yarn and hook to make bigger versions)
Crochet hook (I started witha 5.5mm with the heavier yarn, before later being able to use a 3.5mm or 3mm with the smaller yarn)
A big blunt needle for sewing things together with yarn
Something to mark your stitches (an earring or safety pin will do)
6mm plastic safety eyes or black thread to make eyes
Some stuffing
You can learn anything on YouTube
I used YouTube videos to learn every technique - but quality varies. These are the ones that worked for me:
← Read all posts